Kindergarten Readiness
APS has two learning options for our youngest students: traditional Kindergarten and Junior Kindergarten. Learn more below.
Traditional Kindergarten
APS offers a traditional all-day-every-day Kindergarten program in every elementary school. In Kindergarten, your child will be exposed to a rich curriculum that is aligned to the Michigan State Standards and the Essential Practices in Early Literacy. This includes daily small-group instruction and whole-group lessons in literacy, math, social-emotional learning, as well as science and social studies content.
As a tool to meet these requirements, your child's teacher will expose them to content from the following curriculum resources:
Benchmark Literacy & Differentiated Reading Instruction
Heggerty Phonemic Awareness Program
Start it Up Phonics
Math Expressions
Second STEP (Social Emotional Curriculum)
Mystery Science
Junior Kindergarten
APS currently offers an all-day-every-day JrK program in select elementary schools as a "bridge" from preschool to Kindergarten. This opportunity has been designed to give students the "gift of time" to develop readiness skills to meet the demands and rigor of the Michigan State Standards for Kindergarten.
Students enrolled in our JrK will engage in content with the following curriculum resources:
Connect 4 Learning (research-based program integrating mathematics, science, literacy, and social emotional learning)
Heggerty Phonemic Awareness Program
Differentiated Reading Instruction
Which is Right for Your Child, K or JrK?
Readiness for Kindergarten includes academic factors as well as social readiness.
Academic Skills
To be ready academically, your child should be able to:
name basic shapes: square, circle, triangle, and rectangle;
recognize and name numbers 1-10, even when they are out of order;
count to 10;
say or sing the alphabet;
recognize their first name and identify the letters in their name;
name 18 upper case and 15 lowercase letters and most of those same letter sounds;
sort items by size, color, or shape; and
hold a book and turn the pages.
Social & Self-Help Skills
To be ready for Kindergarten socially, your child should be able to:
put on their coat and zip it up;
follow simple directions;
use the bathroom independently (including zipping and buttoning pants);
use a pencil or a crayon;
cut with scissors; and
pick up after themselves.
If your child can perform the tasks listed above, the Traditional Kindergarten option may be the best fit. If your child still needs that "gift of time" to develop these skills, our Junior Kindergarten could be a great option!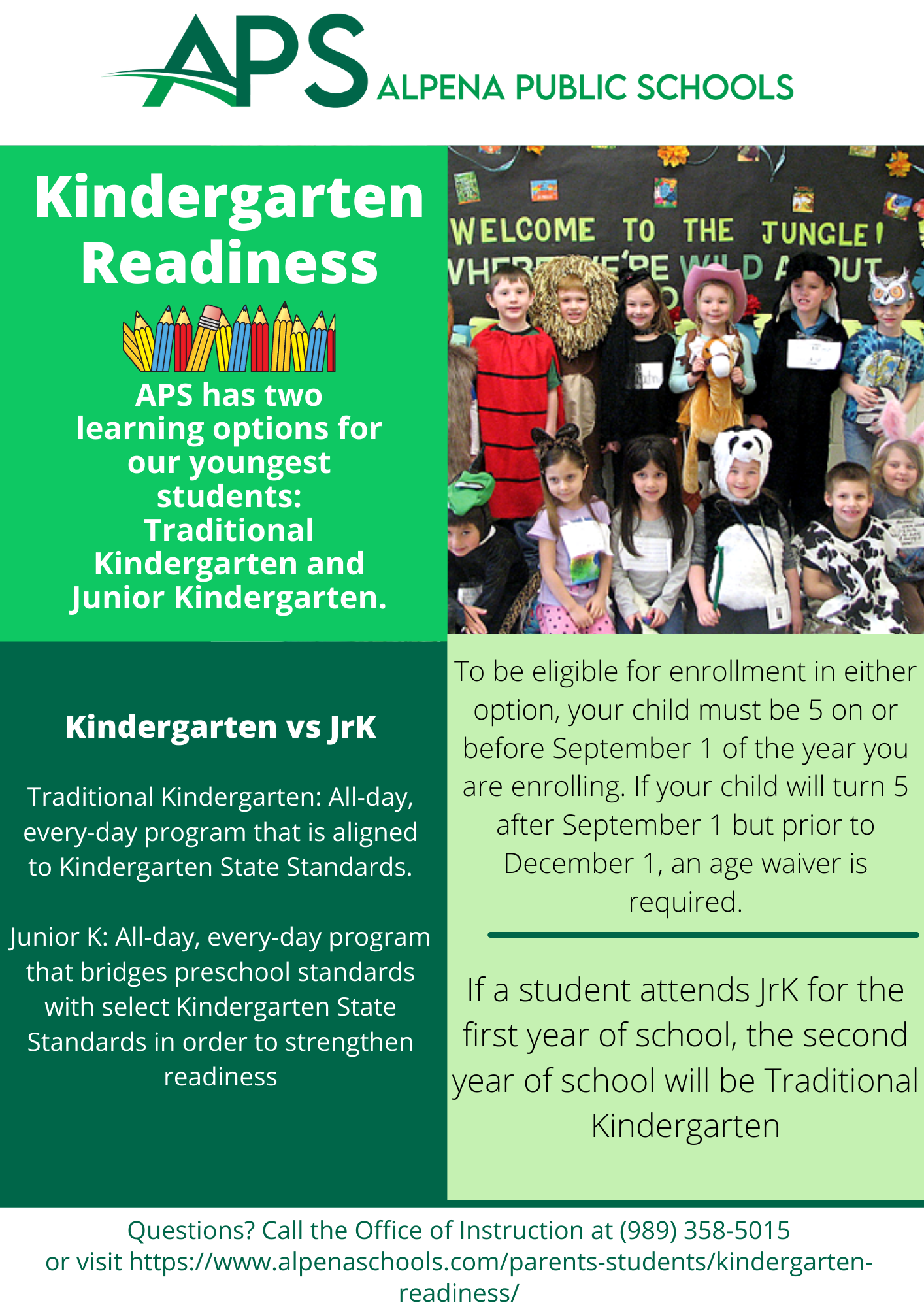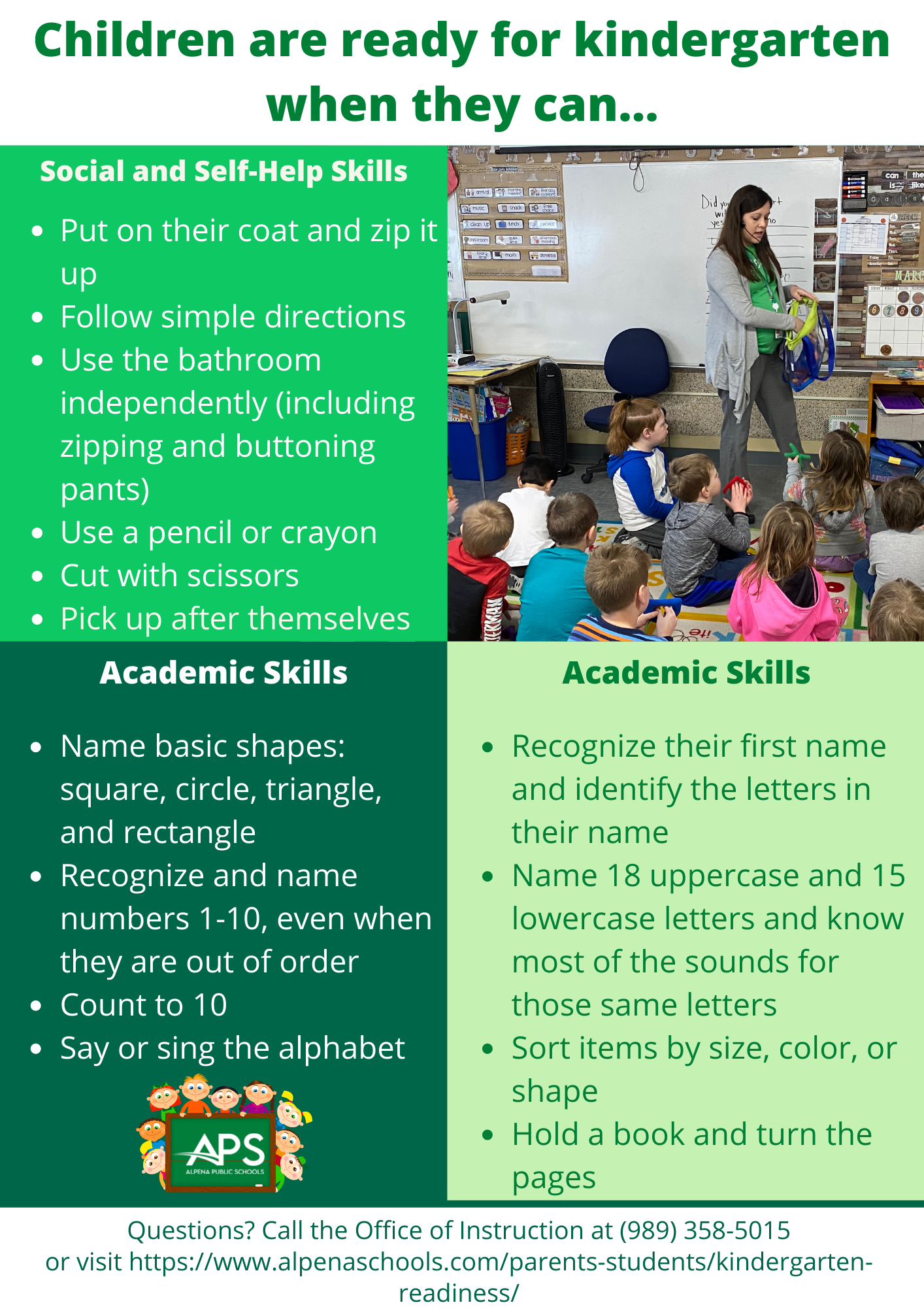 Need More Information?
We have generations of experience in supporting families with educational choices. If you need more information or have questions about our Kindergarten options, we are happy to help!
For guidance in choosing the best Kindergarten option for your child, contact our Office of Curriculum, Instruction and Assessment at 989-358-5015.
Ready to Register?
To begin the enrollment process, click to access our Enrollment page. If you need help with this process, our Registration and Pupil Accounting Office can be reached at 989-358-5025.