District News
Alpena Public Schools News

View Archives
October 2, 2023
Bus Routes not running on Tuesday October 3rd 2023
On Tuesday 10/3/23 route 19-B Wilson area will not run for both AM and PM for Secondary and Elementary routes.
October 1, 2023
APS Superintendent Update October 2023
PDF Version Click HERE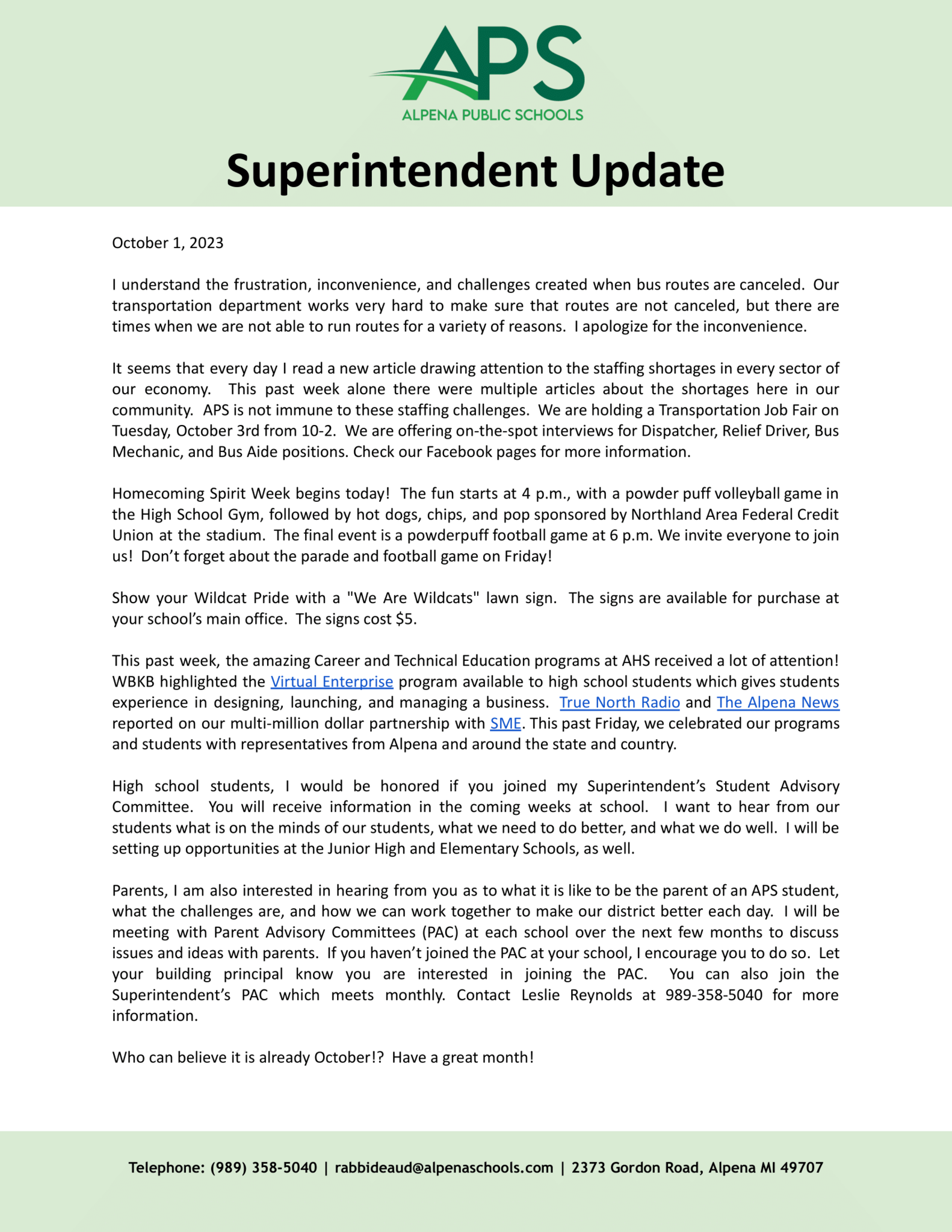 September 30, 2023
Transportation Job Fair 10/3/2023 10 AM- 2 PM at APS Transportation Office 1357 M-32
Transportation Job Fair!
Dispatcher, Relief Drivers, Bus Mechanic, Bus Aides
Tuesday October 3rd 10 AM-2 PM
APS Transportation Office 1357 M-32 Across from Home Depot
On the spot interviews, Call (989) 358 5030 to arrange an interview if you can't attend.
September 29, 2023
Annual Well Water Testing Fall 2023 Hinks, Wilson and Sanborn
Public Notification for Non-Community Water Supplies
Dear APS Family Member,
Alpena Public Schools has been working proactively with the Michigan Department of
Environment, Great Lakes, and Energy (EGLE) and local District Health Department
No. 4 to monitor water used for consumption. Attached with this notification you will find
the most recent results from scheduled water testing at our buildings served with a non-
community water supply (Hinks, Wilson, and Sanborn).
This most recent test conducted refers to a Maximum Contaminant Level Goal (MCLG).
This MCLG is the level of a contaminant in drinking water below which there is no
known or expected risk to health. MCLGs allow for a margin of safety.
The results at Hinks and Wilson were all within the MCLGs. At Sanborn, one drinking
fountain was found to be slightly above the MCLG for Copper. The MCLG for Copper is
1.3 mg/L and this drinking fountain was found to be at 1.4 mg/L.
Upon receiving these results, we initiated a full flushing of the system, a new filter
system was installed, and follow-up testing was conducted and we are currently
awaiting the results of the new testing.
Should you have any questions, please contact the superintendent's office at 989-358-
5040.
You may view the full report here.
Sincerely,
Kurt Konieczny
September 25, 2023
APS Board of Education Monthly Meeting September 2023
5:30 PM in the AHS Auditorium
Find us on YouTube @AlpenaPublicSchoolsMichigan
Streaming link for the meeting
https://youtube.com/live/Y-9L7DGyR3Y?feature=share