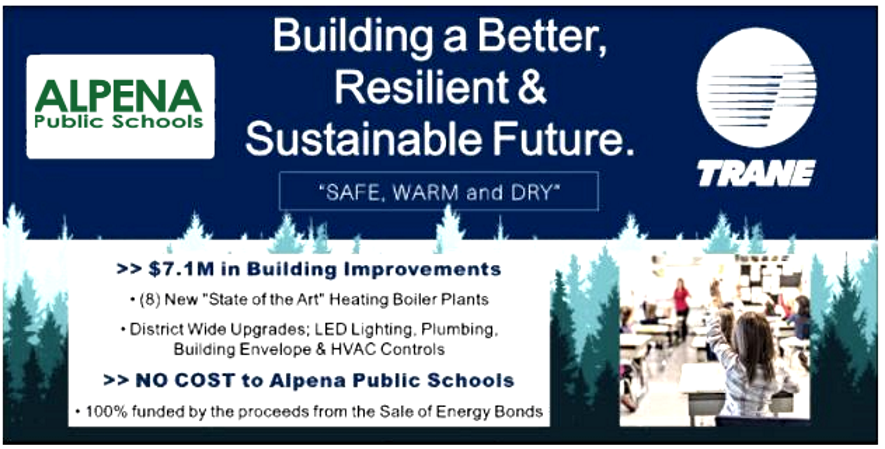 Bond Information

Just like a homeowner, the Alpena Public Schools maintains its facilities to the best of our ability using available funds. Even with the best of care, however, any roof will eventually leak, and any boiler will begin to show its age and lack of efficiency. When a roof or heating system gets beyond its life expectancy, it becomes an obligation to address the problem. Homeowners often seek home improvement loans to fund these expenses. School districts must ask voters.
Our buildings see thousands of students through their doors every year. We want to provide a great learning environment for them, and keeping kids dry and warm is an absolute must. Part of the March 10, 2020 bond proposal was to address our old boilers and many failing roofs. The document below lists the age of the existing boilers and roofs around the district.
Replacement Age - Roofs and Boilers
The safety of our students is our highest priority. This commitment demands that we follow best practices in making sure that our buildings are secure. Each school within the district will receive upgrades to improve our ability to monitor student safety through the installation of carefully placed indoor and outdoor security cameras and to maintain orderly access to all our facilities by constructing secure entryways
Bond Construction Progress
Safe, Warm, Dry Bond Project Updates
Bids, Reports and Other Information
As work starts and progresses on projects under the Safe, Warm, Dry Bond, we will post updates here. If you have questions, please call Superintendent David Rabbideau at 358-5042 or send an email to rabbideaud@alpenaschools.com.
04.25.21: Bond and Performance Contract Updates
Kurt Konieczny shared an update about water conservation, lighting projects, boiler scope, building automation/controls upgrade, asbestos abatements, and planning and preparation work on Ella White Elementary. 04.25.21 Update.
03.15.21: Asbestos Abatement Community Awareness Presentation
Lisa Whitton from Nova Environmental, Inc. provided information about the asbestos abatement safety and protocols for the mitigation of asbestos before bond construction work begins at district buildings. This presentation was presented four times to the public. You can view it using the following link: 03.15.21 Asbestos Abatement Community Awareness
The award bids cover general trades, paving, HVAC, electrical, site work, and roofing work.
12.08.20: AHS Lighting
New lighting is being installed at AHS and Nova Environmental is onsite for asbestos abatement estimates.
Wilson Elementary Reception/Waiting Room Addition - Series I Renovations
Anna
Besser

Elementary Series I Renovation

Updates coming soon! Revisit again.
Lincoln Elementary Series I Renovations
Updates coming soon! Revisit again.
Ella White Elementary Series I Renovations
Updates coming soon! Revisit again.
Safe, Warm, Dry Bond Project List (click to open)
Now that the March 10, 2020 bond proposal has been approved by Alpena Public Schools voters, a number of projects will be completed at each school. The focus of these projects is to improve student safety, replace many outdated and inefficient heating systems, and address all the old roofs around the district.
Below is a list of projects to be completed. Questions about the projects can be directed to Superintendent John VanWagoner at 989-358-5042.

Highlights of 2020 Zero Mill Proposal


Full Itemized List


Preliminary Application Dated 11/05/19
Trane Energy Conservation Bond Project Updates
February 1, 2021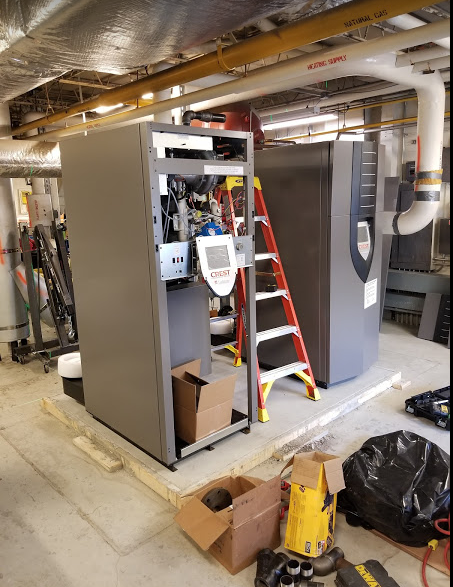 New Boiler installation at Besser Elementary.
January 25, 2021 Update
Project signs were posted at all building project sites by Trane.
Updated Lighting Schedule for APS Buildings was shared with the Property Committee in January.
November 16, 2020 Update
The Board of Education viewed a slide deck presentation by Trane Technologies at the November 16 Board meeting. Trane rep Gwen Pettit shared photos and a progress report on mechanical, lighting, controls, water, and building envelope improvements and upgrades. You can view the slide deck using the following link:
Questions?
Call any APS principal, or contact Superintendent David Rabbideau at 989-358-5042.
Thanks for your support to keep our kids Safe, Warm and Dry!
On Tuesday, March 10, 2020, voters in the Alpena Public School District approved a zero (0) mill increase to provide enhancements to school district facilities.
Every project in the bond proposal was reviewed and approved by the Michigan Department of Treasury. All renovations and upgrades will comply with the Americans with Disabilities Act (ADA).
The information on this page is provided to make sure members of the community understand the proposal and how the approved funds are being used to improve our facilities. Check back frequently as new information will be added as the scheduled voting day approaches.