Graduate Profile
Developing 21st Century Graduates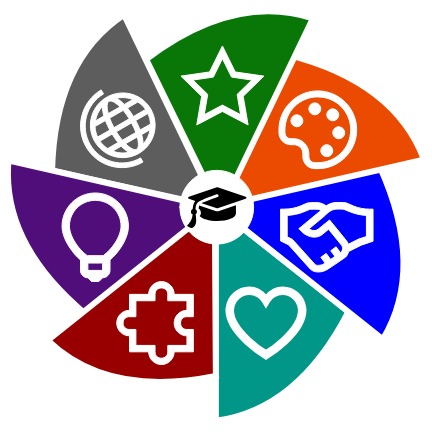 Alpena Public Schools' Profile of a 21st Century Graduate is an extension of the district's Mission and Vision statements. It is the result of a multi-step process involving various stakeholder groups. Work began in 2017, and the Profile was adopted by the Board of Education in March of 2019. The document looks beyond credit requirements for graduation to describe the attributes necessary for graduates to be successful in the world beyond high school.
Mission
Alpena Public Schools, in partnership with our community, teaches and challenges all students to become lifelong learners and productive citizens.
Vision
Every student who attends Alpena Public Schools will graduate from high school ready for college and careers, equipped with skills, abilities and attitudes necessary for 21st century success.
The Profile of a 21st Century Graduate
Confident

Self Aware - Able to identify their own strengths and weaknesses
Growth Mindset - Embrace their ability to grow through dedication and hard work
Grit - Willing to expend sustained effort to complete tasks with excellence
Creative

Appreciative - Value and celebrate creativity in all forms
Innovative - Connect existing and original ideas and methods to novel conditions
Resourceful - Able to identify and apply all available tools to tackle challenges
Collaborative
Team Player - Willing to fulfill a variety of roles in group settings
Communicator - Able to effectively share,receive and interpret information
Flexible - Willing to adjust,adapt and compromise to address varying circumstances
Continuous Learner

Ownership - Take personal responsibility to drive their own learning
Resilient - Approach problems with a growth mindset
Passionate - Pursue and expand areas of academic and personal interests
Critical Thinker

Analytical - Able to perceive connections and divisions within a problem situation
Logical - Recognize and maintain a sense of coherence in problem solving contexts
Problem Solver - Implement strategies to successfully and efficiently create solutions
Contributor

Citizenship - Recognize the importance of their role in our connected world
Involvement - Willing to actively engage to make a positive difference
Community Oriented - Able to balance self-interest with the needs of society
Culturally Minded

Globally Aware - Sensitive to the variety of cultural expressions
Compassionate - Able to empathize with the feelings and priorities of others
Embrace Diversity- Willing to welcome and respect all differences