Arts and Communications Pathway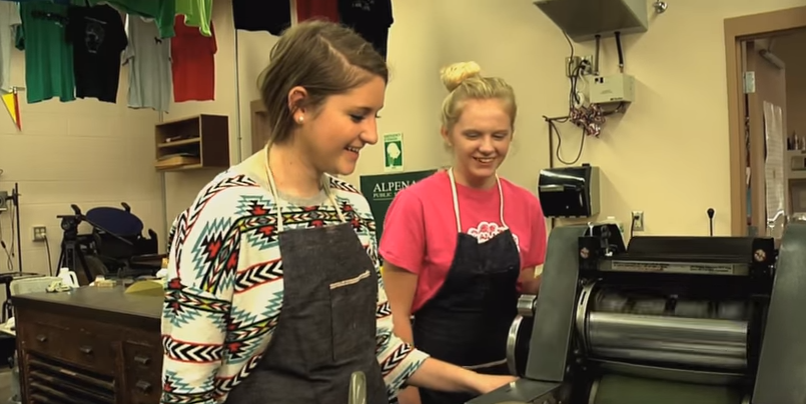 Imagination for Hire!
Classes
Visual Imaging I
Get in on the fun!! Learn how to design posters, t-shirts, booklets, tickets, forms and much more. Be the creator of the next logo for a company or design your own clothing line. Lean how to print t-shirts, paper materials, booklets and layout cool looking forms and envelopes. This class uses the newest technology and software and encourages strong computer skills. Students will use software from the Adobe Suite - Adobe In Design, Adobe Photoshop, and Adobe Illustrator... just to name a few. If you are interested in the printing and designing industry and like to work with computers and your hands, this is the class for you! You will learn how to do computer layout and design, work with digital imaging, use offset printing presses, learn how to screen print, use scanners, digital cameras, and much more! Become an entry-level craftsman in the printing industry. You will have the opportunity to explore not only the many printing processes but bindery, thermography, cutting and estimating stock, as well as producing your own projects. Don't miss out on the chance to work in a fast paced, exciting career. There is nothing boring about this class or industry. There is something new each day!
Visual Imaging II
A continuation of Visual Imaging I involving advanced work in the areas of electronic imaging, letterpress, photo-offset printing, multi-color register, halftone photography, automatic press operation, equipment maintenance, and production procedures. Work will be done on live production jobs. Students will be involved in the planning, cost estimating and production of all the various types of jobs found in typical job shop situations. Major emphasis will be placed on skill development, craftsmanship, and shop organization and management. This program provides an excellent background for college level graphic arts students. Prerequisite: Successful completion of Visual Imaging I and permission of instructor.