Natural Resources & Agriscience Pathway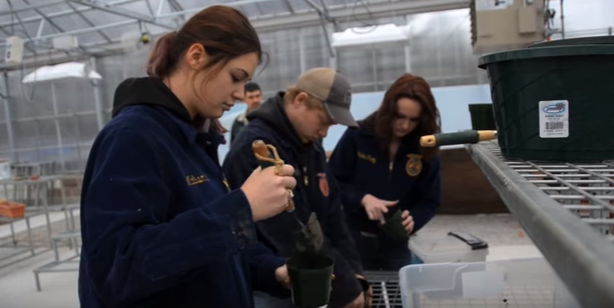 This Isn't Your Grandfather's AG Class!
Discover how science and technology have changed the way we produce and care for plants and animals! New developments have caused agriculture needs to explode into one of most exciting and fascinating industries of our time. This program is designed to explore the exciting field of today's Agriscience careers, including, dairy and livestock management, agribusiness, landscaping, horticulture, crop management and machinery operation, all in a hands-on setting.

Students in this program may join the FFA organization, which allows students to develop premier leadership skills, personal growth and career success through agricultural educational activities.
Classes
Innovations In Agriscience I
Agriscience and Natural Resources is one of the leading areas of innovation and technology. Hydroponics, aquaculture, horticulture, green energy, GPS, integrated pest management and niche marketing are a few of the many areas of study in this newly designed course. There will be many career areas explored in the modern world of Agriscience and will include hands-on activities, several guest speakers as well as field trips to various locations.
Innovations In Agriscience II
This is the second year of the two-year sequence for Agriscience
Agriscience Business Management
Specifically for advanced students with college preparatory programs, or those students requiring a related class for Agriscience Co-op. This class deals with a variety of areas not developed in prior classes. Subject matter will be directed at a wide array of agri-business topics such as marketing at all levels from local to international, record keeping, computer applications, futures, business layout and operation, money management, state and federal tax forms, field experiences, equipment operation and management, and all with as much hands-on experience as time permits. Finally, leadership and FFA are integrated into the course. INDEPENDENT STUDY ONLY. See Instructor OR your counselor. Prerequisite: Instructor approval
Agricultural Equip. Management
Agricultural Equipment Management is a course designed to allow students to gain practical experience with machinery, tools and light mechanics. General areas of study include physics and the practical applications of physics as related to agricultural machinery and technology. Students enrolled in this class can expect to participate in hands-on activities as they relate to equipment maintenance/repair, restoration and/or assembly. Topics to be studied include hydraulics, friction, safety, electrical systems, energy sources, project management and other related subjects. Exposure to FFA and leadership will be incorporated as a part of the state mandated curriculum.
Introduction to Forestry
This course is designed to provide the student with a general overview of the discipline of forestry. The main thrust of topics covered will include tree identification, land use, standing timber, log and lumber measurement, woodlot management, safety, equipment maintenance, computer application, wildlife management and wood identification. In addition to these topics, potential forestry related careers will be investigated. Leadership and FFA will be integrated as a fulfillment of the state suggested curriculum. Introduction Forestry and Plant Science will cover similar topics with different emphasis.
AG & Natural Resources Research
Students will have the opportunity to explore and study Agriscience and Natural Resources concepts in greater depth as they conduct academic and hands-on research in an area of interest. Students will be required to perform background textbook reading, investigate research options within a chosen area of plant science, animal science or natural resources and conduct a research experiment or study related to an area of interest. This course may be taken more than one time in a High school career per instructor approval of performance and topics chosen. This independent work will give students an opportunity to explore a topic in depth while building career skills of responsibility and knowledge building.
Wildlife Science
This course has a primary focus on animal science concepts as they relate to wildlife and the outdoors. Concepts to be covered will include the following animal systems: Respiration, circulation, reproduction and digestion. Other areas to be studied are habitat, genetics, population control measures, disease and other related issues such as hunting and fishing. Leadership and FFA will be incorporated
Agricultural Biology
Agricultural Biology is an introductory course in the study of life with an emphasis on agriculture and natural resources. Concepts to be covered include scientific problem solving, biochemistry, cytology, genetics, natural selection, ecology, biological classification, and plant and animal kingdoms. Students will acquire biological skills and techniques used in many biologically related careers. This course is designed to fulfill the biology science requirement and is recommended for those considering careers in agriscience and natural resources. FFA and leadership will be incorporated as a part of the state mandated curriculum.
Biology-Zoology
This course is designed to give students background in a variety of science concepts related to animal sciences while offering the required science credits for graduation when taken in sequence with Biology-Botany. Students will explore animal anatomy and physiology, animal genetics and reproduction, animal health and nutrition, agricultural business and careers. The course may be taken in 9th or 10th grade and MUST be taken in sequence with Biology–Botany the following year to obtain the required science curriculum for 9th grade science credit and Biology credit. FFA concepts will be presented as part of the State required curriculum.