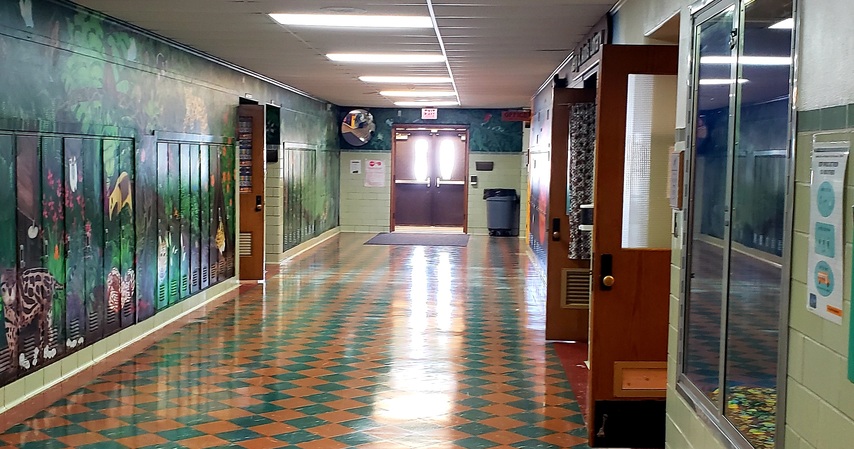 Ella White Elementary
Ella White School is a K-5 elementary school located in the city of Alpena. It has an enrollment of about 450 students, with as many as half the students living within walking distance of this neighborhood school.
This school is an established facility in the community, having been built in 1950 with additions constructed in the late 50's/early 60's and again in the 90's. Although located in the City of Alpena, Ella White benefits from having large grounds featuring a well-equipped playground and a nature area. At the present time, our facility is used to its capacity, including after-hours usage by the community, parents and students.
Ella White Elementary School's Vision: "We shape resilient citizens."
Calendar

Previous

July

2021

Next

S
M
T
W
T
F
S
1
2
3
4
5

Jul 5

APS Closed - Federal Holiday Observance

Calendar:

District Calendar

6
7
8
9
10
11
12
13

Jul 13

9:00 AM to 10:30 AM

C&T Committee - CANCELED

Calendar:

District Calendar

This meeting has been canceled due to a lack of agenda items.

10:30 AM to 11:30 AM

Policy Committee Canceled

Calendar:

District Calendar

Canceled due to lack of agenda items.

14

Jul 14

10:00 AM to 11:00 AM

Finance Committee

Calendar:

District Calendar

The Finance Committee meets in the Gerry Ludwig Board Room, 2373 Gordon Road, Alpena, MI 49707

07.14.21 Finance Agenda

11:00 AM to 12:00 PM

Exec/Personnel Committee

Calendar:

District Calendar

07.14.21 Executive/Personnel Agenda

This meeting will be held in-person in the Gerry Ludwig Board Room, 2373 Gordon Rd., Alpena, MI 49707.

Effective June 7, masks are recommended in Alpena Public Schools for all staff and students. This recommendation extends into summer school, summer athletic camps, and all school-related activities. Thank you for your patience and understanding during an extremely challenging time for all. We appreciate your continued support.

Please review these CDC guidelines:

| | |
| --- | --- |
| Fully vaccinated or Medically cannot tolerate a face mask | People do not need to wear masks. |
| Unvaccinated | The CDC strongly recommends mask usage indoors, outdoors and in crowded situations for unvaccinated people, including children. |
| Weakened immune system | The CDC recommends masks and distancing. |

15
16

Jul 16

10:00 AM to 11:00 AM

Property Committee

Calendar:

District Calendar

17
18
19

Jul 19

5:30 PM to 7:30 PM

BOE Meeting

Calendar:

District Calendar

This meeting will be held in-person in the Gerry Ludwig Board Room, 2373 Gordon Rd., Alpena, MI 49707.




Please review these CDC mask guidelines:


| | |
| --- | --- |
| Fully vaccinated or Medically cannot tolerate a face mask | People do not need to wear masks. |
| Unvaccinated | The CDC strongly recommends mask usage indoors, outdoors and in crowded situations for unvaccinated people, including children. |
| Weakened immune system | The CDC recommends masks and distancing. |

20
21
22
23
24
25
26
27
28
29
30
31
APS Community Town Hall Meeting

Location:

Alpena Senior High School, 3303 S 3rd Ave, Alpena, MI 49707, USA

Calendar:

District Calendar

Join APS Superintendent David Rabbideau for an engaging and interactive evening of dialogue for members of the Alpena Community and School District. Topics of focus will be those that have been shared recently with the Board of Education.

APS Online Parent Meeting

Calendar:

District Calendar

Informational Meeting for any Alpena Public School parent interested in APS Online for Fall, 2021

Property Committee

Time:

10:00 AM to 11:00 AM

Calendar:

District Calendar

BOE Meeting

Calendar:

District Calendar

This meeting will be held in-person in the Gerry Ludwig Board Room, 2373 Gordon Rd., Alpena, MI 49707.




Please review these CDC mask guidelines:


| | |
| --- | --- |
| Fully vaccinated or Medically cannot tolerate a face mask | People do not need to wear masks. |
| Unvaccinated | The CDC strongly recommends mask usage indoors, outdoors and in crowded situations for unvaccinated people, including children. |
| Weakened immune system | The CDC recommends masks and distancing. |

New Teachers Orientation

Calendar:

District Calendar