Enrollment
Thank you for your interest in Alpena Public Schools!
Enrolling is as easy as 1-2-3...
Fill Out a Registration Form...
You can download our enrollment form by clicking the link in the "Forms" box at the right, or you can visit any school to pick up a form.
If your child is coming from another school district, you will also need to complete a Request for School Records form so we can have previous records sent to us. Also, students in grades 6-12 will need a Verification of Prior Discipline form. You can get these forms from us or by clicking in the box on the right.
Gather These Documents...
Child's legal certified Birth Certificate - must be an original copy
Child's Immunization Record
Proof of Address (examples: utility bill, rent receipt, updated drivers license with correct address on front)
Visit Our Central Enrollment Office...
We are located at 2373 Gordon Road in Alpena. We've included a link to a handy "Map to Central Office" in the box on the right. When you visit, our friendly staff will help you complete the registration process and answer your questions.
We offer many unique opportunities here at Alpena Public Schools, including:
All-Day Every-Day Kindergarten with developmental options
A full program of core subjects as well as Art, Music, and PE for all grades
Schools of Choice
Online learning through GenNET and dual-enrollment with ACC
Non-core courses for homeschool and non-public school students
The region's Career and Technical Education Center with state-certified courses
Start and stay with Alpena Public Schools!
Notice of Nondiscrimination
Alpena Public Schools is in compliance with all state and federal laws prohibiting discrimination on the basis of race, color, religion, national origin or ancestry, age, physical characteristics, marital status or handicap.
Enroll for Fall!
Visit us at 2373 Gordon Road Monday-Friday from 8:00 AM to 4:00 PM. Caring staff will be available to help register and explain options for your child, including Developmental Kindergarten.
To register, bring a birth certificate, proof of residency, immunization and vision screening.
Call 358-5025 if you need more information.
Enrollment FAQ
Q: What if I am missing some or all of my required documents? (Legal birth certificate, immunization record, proof of residency)
A: You should still come in and register. Fill out the registration form to get your child into Alpena Public Schools. You are allowed 30 days after the beginning of the new school year to provide any missing documentation. We will give you a list of needed documents at the time of registration. Once you have them, just take them to your school's office.
Q: What if my child has not had any eye exam yet? (Kindergarten placements only)
A: You can still register. You have until school starts to provide it.
Q: Where can I get an eye exam done?
A: Your family doctor can give your child the required eye exam. It does not need to be a formal exam by an eye doctor.
Q: What if I don't have all of my child's immunizations up to date?
A: Bring in what you have. You have 30 days from the time of your child starting school to either get the rest of the required immunizations, or to provide us with proof of an appointment with either your health care provider or another provider of immunizations. Also, if you have chosen to not have your child get any further immunizations, you can ask for an immunization waiver when you come in to register.
Q: We live in the boundary of one Alpena Public School area; however, we want our child to go to a different school in the Alpena Public Schools District. What can we do?
A: Ask for a transfer agreement form. Upon completion of the form (one per child) the District office will make a decision, based on classroom sizes in both the school you are choosing to attend and the school that you reside to make the best choice for your child. We cannot overcrowd a classroom; however, we will make every attempt possible to honor your request.
Q: We live in another School District, such as Alcona, Atlanta, or Posen. We want to attend Alpena Public Schools. Can we?
A: The first step would be to register with us and bring in your necessary documents. Once you have completed the paperwork, we will make a request on your behalf to your resident school district, telling them of your decision to attend Alpena Public Schools. Your resident school district has to release your student so that he or she can become an official member of Alpena Public Schools. Once that is completed, your child can start school with us.
Forms

Registration Form


Request for Records


Verification of Prior Discipline


Map to Central Office
Need Help?
If you've got questions, call us to get more information.
Switchboard: 989-358-5200
Enrollment: 989-358-5025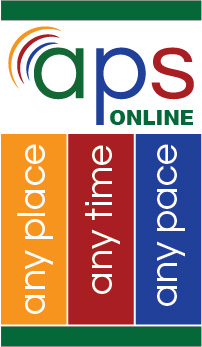 Online Learning
Web-based courses for
students in grades 6-12.
Log On and Learn!
For more information:
Call 989-358-5190
Or email APS Online!