Why Alpena?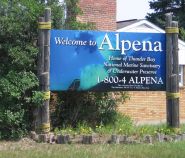 Alpena is a beautiful community. Our inland lakes will delight you; our rivers, pine forests, and picturesque Lake Huron coastline offer a variety of recreational opportunities; and our friendly residents will make you feel welcome.
We are proud of our surroundings, our way of life, and our school district, a cornerstone of Alpena's success.
Partnerships between schools and business are flourishing. Programs at the elementary level that focus on reinforcing the partnerships between parents and schools are paying big dividends in terms of parent involvement and support for education.
In response to our area's needs and priorities, we continue to revise our curriculum, improve our infrastructure, and do more to help kids and serve our community in this ever-changing world. We have, we think, a strong school system in a very pleasant corner of the world. About 31,000 of us live here, and we wouldn't live anywhere else. Come join us!