Compare
Dare to Compare
Families in Alpena County have a choice between two competing public school systems:
Alpena Public Schools, the area's original public school system, which has been serving the area for more than 130 years
Bingham Arts Academy, a charter school founded in 2004 and managed by Mosaica Education, Inc., a for-profit firm. Bingham Arts is NOT part of Alpena Public Schools.
Compare Alpena Public Schools to our competition, and you'll see: We are the Best Choice!
Quality Curriculum
Because Alpena Public Schools is a K-12 district, we are able to offer families a consistent experience from the first day of kindergarten to the day they walk across the stage to receive their diploma. The important transitions from elementary to middle school to high school occur smoothly within our system. The resources entrusted to us by our community provide a solid foundation in math, literacy, science and social studies. Our elementary math program uses the highly-regarded "Math Expressions" series to give our youngest students a strong start in calculation and critical thinking. Our new K-6 "Benchmark Literacy" reading program offers research-based comprehension instruction and a strong phonics component. And APS goes beyond the basics, with highly qualified professionals offering these specialized programs:
Vocal and Instrumental Music
Visual Arts in a variety of media
Career and Technical Education
Physical Education and Health
Advanced Placement (AP) courses
Free Dual Enrollment for college credit
Inter-scholastic athletics
As a full-featured K-12 school system, Alpena Public Schools will open northeastern Michigan's first Early College program during the fall of 2014. This unique program offers students a chance to graduate with a high school diploma and a college degree at the same time!
Academic Achievement
Since both Alpena Public Schools and Bingham Arts Academy are public systems, their students are required to participate in the annual MEAP tests. Here are the most recent results for Alpena and Bingham: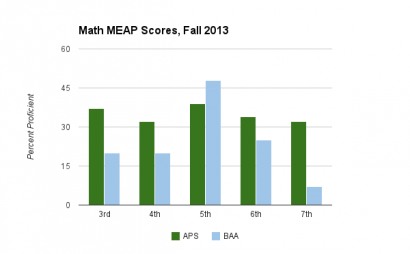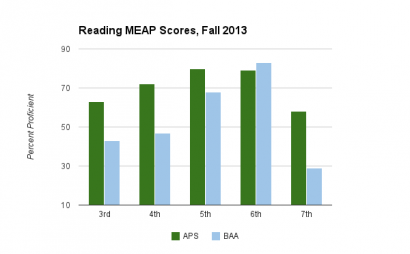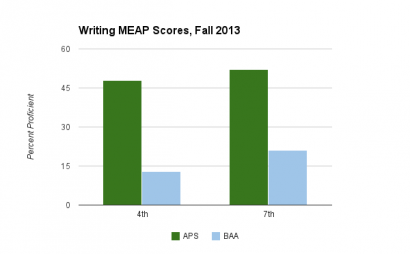 Data for Science and Social Studies tests show similar results. The evidence is clear - Alpena Public Schools consistently outperforms Bingham Arts Academy in the key academic areas of Math, Reading and Writing.
Local Control
Bingham Arts Academy is managed by a for-profit management company based in New York named Mosaica Education, Inc. It charges a management fee to each of the schools it manages, which is paid through the tax dollars that Bingham receives from the state of Michigan. Mosaica generates about $125 million in revenue from the 90 schools it manages around the world.
Alpena Public Schools is governed by elected representatives who live and work right here in our community. We are accountable to our community, and 100% of the tax dollars we receive from the state of Michigan stay right here in Alpena to pay staff, buy supplies and fund programs, not profits.
Right to Know
People have a right to choose the educational solution that's best for their child. Alpena Public Schools respects that. However, we believe that we offer a world-class education right here in our home town, and it would be wrong for us to not point it out. It takes facts to make an informed decision. The facts support this conclusion: Alpena Public Schools is the Best Choice!
Learn More